How to Rebuild the Droplet on Digitalocean Cloud VPS
In this tutorial, we are going to see about Rebuild the Droplet on Digitalocean Cloud VPS.
Mostly we Destroy the Droplets & create a New Droplets for Applications/Websites/Blogs Relaunching.
Also, some Developers and beginners Create Droplet again and again While Learning and Testing.
Here's the Solution for this Rebuild the Droplet on Digitalocean Cloud VPS
Just Follow this below steps to Rebuild Your Digitalocean Droplet
Login to your Digitalocean Account
Open the Droplet That you want to Rebuild (OR)
Go to More Menu and Click Destroy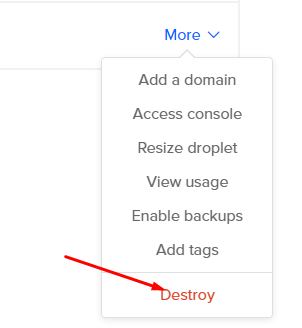 you can Find the Rebuild Option on Destroy Page
Select an Image (It Shown the OS and Onclick Apps
Choose the OS or App that you want Rebuild on your Present VPS Droplet)

After selecting the Image click Rebuild
Now it's Started rebuilding your Droplet with Fresh Image that your Choose
Open your Droplet IP for Confirmation If it opens with Shark Image then successfully We Rebuild the Droplet on Digitalocean
After all, process Check your Mail Inbox that associated with your Digitalocean Account
You get the new Login Credits for your rebuilding Droplet
That's all Done 🙂
From the Editor's Desk
1 – For 5$ Plan user's  – Before choosing the One-click Apps to check whether its support the 5$ Plan otherwise you will get this result Check the Below Image.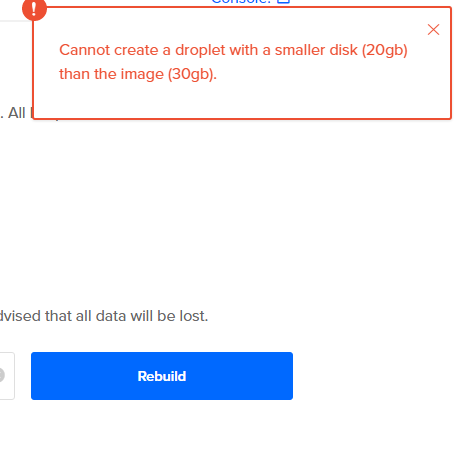 Go to Resize and Upgrade your Droplet Plan, or While Rebuilding Select the Os which is suited for your Work/Apps/Blog, its Does not have Any Plan/App restrictions.After this Process Install your Favourite Apps/CMS Manually.
2 – Already I connect the Domain to My Droplet What can I do?
If you want the connected Domain Again for the Rebuilding droplet, then Don't delete the domain WhileRebuilding the Droplet
If you want to remove Old Domain then go to Networking Open Domains Remove your Old and add your new Domain connect it with the droplet you rebuild
How to Guides
Was this article helpful?
Thanks!
Your feedback helps us improve Allwebtuts.com