How to Add a Custom domain in Vultr Cloud VPS server
Beginners Guide How to Add a Custom domain in Vultr
Vultr is a Cloud VPS server Similar to Digitalocean Both having a same feature's we will the post the compression of Vultr and Digital ocean in Our Future post.
In this Tutorial, we are Going to see about How to Add a Custom domain in Vultr Cloud VPS server.
Cloud VPS servers Have Dedicated IP.we need a Custom domain for Dedicated IP here is the reasons why we need a custom domain for dedicated IP Explanation by Vultr – Check here
How to Add Custom Domain on Vultr Cloud VPS?
Just follow our Below steps to Set up your domains with Vultr DNS!
Log in to your My Vultr Dashboard 
After log into your dashboard, It showing the list of server's you Installed
you can find the DNS menu in the Servers dashboard

Now open DNS section
Now you can find the Add domain button on that page
Just Click add button
Just enter your Domain name and your Cloud server's IP address (you can find your IP in servers section)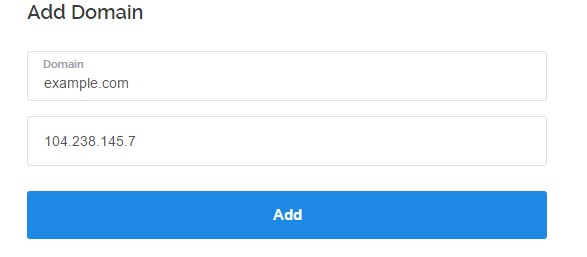 After providing your all details Just click Add
That's all successfully your domain was added to the Vultr VPS server
After that login to your domain managing panel and enter the Vultr nameserver details
ns1.vultr.com

ns2.vultr.com
From the Editor's Desk
If you are using Subdomain Just point your Server IP Address in A record on your Domain DNS Manager
For Example, My Subdomain is blog.example.com

If you Have any doubts in this Topic Please Feel Free to Comment here I will Guide you.
Was this article helpful?
Thanks!
Your feedback helps us improve Allwebtuts.com