[Beginners Guide] How to Create Droplet in Digitalocean
Today tutorial we are going learn about how to create Droplet in Digitalocean recently we started using digital ocean Cloud VPS and it work awesome.Full Cloud Compute process with Powerful SSD servers with 40Gbps speed and this tutorial we are going to see about How to create our first droplet in Digitalocean SSD servers.
After creating your Account Fill your Profile and Payment details now follow this crucial method to create a droplet on your DO server.
At the top of the menu, you can find the create droplet option just click the create droplet button

Now it shows the Droplet installation page
Process 1 – Choose your OS it having 6 types of OS [ex if you are going to install WordPress choose Ubuntu]
Choose Os version I choose Ubuntu 16.04.2 64 bit Because I create this droplet for my new WordPress website.

Choose the package Size (It having 9 Plans but we choose 10$ it's enough for WordPress if you Having a simple and static website 5$ is enough or if you want to host your apps means choose high-end plans)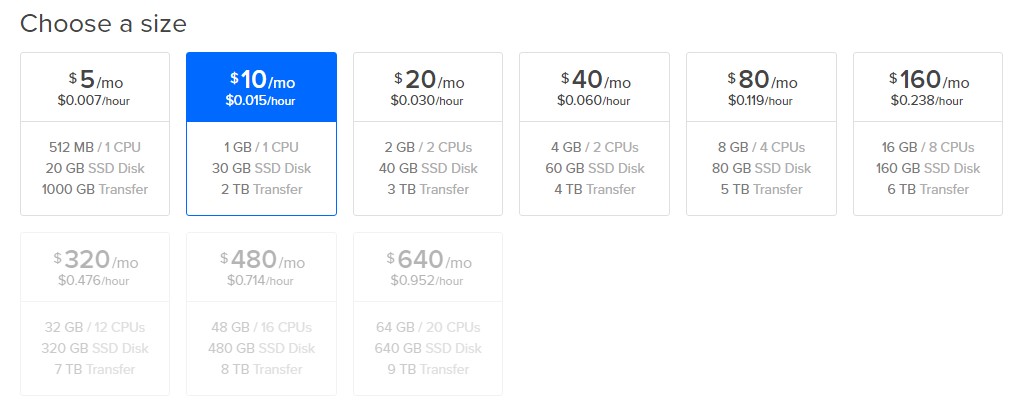 Process 3 – Now choose your data center maximum I recommended New York, San Francis, o and Amsterdam

They provide some additional options like private networking, backups, IPV6 and user data.if you want that feature means choose them
Add SSH Keys If you want SSH for your Droplet then use third party SSH Key Generator Tool/ssh-keygen to Create an SSH Key – Check out the official Documentation to Create & Setup SSH Keys.
Final process – Choose How many droplets you want and provide a hostname for your Droplet's
That's all click Create button to create your Digitalocean Droplets.
After installations check your registered email address mailbox, they will mail you the root login and password details.

From the Editor's Desk
Droplet Installation is According to your Requirements You can refer Digitalocean Community for More advance Tips and Tutorial for managing your Digitalocean account.
If you have Any Doubt in this tutorial Please feel free to comment I will help you.
DigitalOcean Site not working with www
Was this article helpful?
Thanks!
Your feedback helps us improve Allwebtuts.com