How to secure a WordPress Site Using WP Security Ninja
Are you aware of any Security attacks? Have you ever seen any attack on a site? Are you worried about the security of your WordPress sites?
If your answer to any of the above question is yes, then you are at the right place. Yes, In this post I am going to tell you everything about how you can secure your WordPress websites.
WordPress is the widely used Content Management System. Approximately 25% sites are running on WordPress CMS. With the increasing number of the popularity of WordPress, there are high chances of hacking also!
When a newbie starts his website on WordPress, they are not aware of the security breaches in WordPress. So there are high chances that newbie will become a victim of such hackers and loss their site or critical data.
The WordPress development teams are working day and night to make WordPress more and more secure. You can see the new releases of WordPress. With each new release, development teams are fixing one or the other issue.
Why Should You Keep Your WordPress Website Secure?
This he serious question which we need to understand first.
Your website or blog is your personal space on the internet. It represents you and your brand. There are many hackers who want to spoil your image or your site image so that they may target your site with some bad code.
Nowadays, Website or Blogs are not just to express personal thoughts. They are the way of living life. There are many people who are making the hell lot of money through website and blog. You are also one of those individuals who rely on the income of blog. So if someone hacks your blog or website, then they may stop you from earning and spoil your image as well as brand name.
So I am giving you some of the obvious solutions to secure your website.
Do not use Nulled themes or plugins.
Update your WordPress version regularly.
Use updated themes and plugins only
Change the WordPress Login URL
So what if you want to have more secured sites which hackers cannot hack quickly? What if you want more security then this?
The answer is very simple. Use WP Security Ninja Plugin.
WP Security Ninja Plugin
WP Security Ninja is a WordPress plugin which deals with the security of your WordPress websites. It is user-friendly and easy to use a plugin which you can use to analyze your WordPress sites. This plugin is used by more than thousands of website with the extensive features to prevent against hacking.
This plugin checks all the major and minor security vulnerabilities in your WordPress site. Once done with testing the vulnerabilities, it generates the report in which everything clearly mentioned.
In that report, you will be able to find the information about the vulnerabilities, links for those vulnerabilities expiations and actions that you should take to overcome those vulnerabilities.
The main thing about this plugin is that it is having more than 40 security vulnerabilities against which it checks the site whether your site is venerable or not.
So with due to these great features, I decided to test this plugin on my site. Let me take you through the whole process of it.
Login to your WordPress Dashboard
Go to Plugins "Add New" Search as "Security Ninja"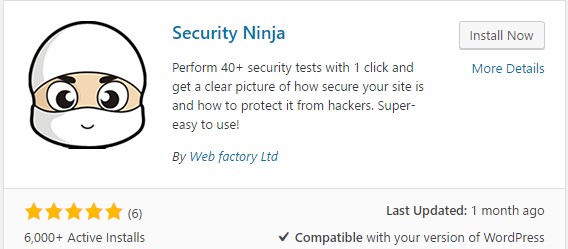 Install and Activate that plugin
In tool Section, you find the Security Ninja Scanning Page
Once you press the Analyse Site button, it will analyze your site and give the result as per the following image.
it taking some Moments to scan your website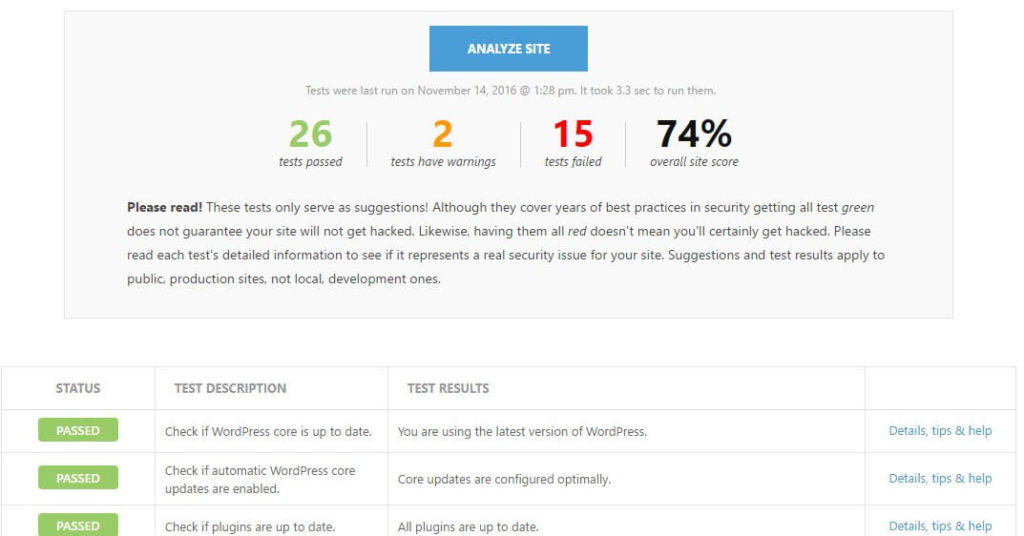 it Provides the test results and Details to Fix the Security Issue's
The Security Ninja plugin will work once you click Analyse Site. it is very easy. The person with no technical knowledge can analyze his site with this plugin.
You will be able to see complete results from the above image. You can change things as per the recommendation of this plugin to make your site more secure but don't forget to take a back-up before you do so.
Features of Free Version of WP Security Ninja
1. Simplicity and Easy to use a plugin: As I mentioned earlier, WP Security Ninja plugin is very easy to use. Anyone with zero technical knowledge can use it easily.
2. Comprehensive reports: This plugin gives you the report which contains all the vulnerabilities. But the whole report is easy to understand and use to modify your site.
3. Scalability: You can easily scale the functionalities of this plugin with add-ons which are paid.
Features of Paid Version of WP Security Ninja
It having the paid Version Also Check out Paid Version Feature of this plugin
Paid Version Features and Cost
As we have seen above, there are two versions of this plugin. The first variant is Free Version in which you will get limited Functionalities. The second version is WP Security Ninja PRO in which there are enormous features for your WordPress website.
WP Security Ninja Pro comes in 3 different packages as follows: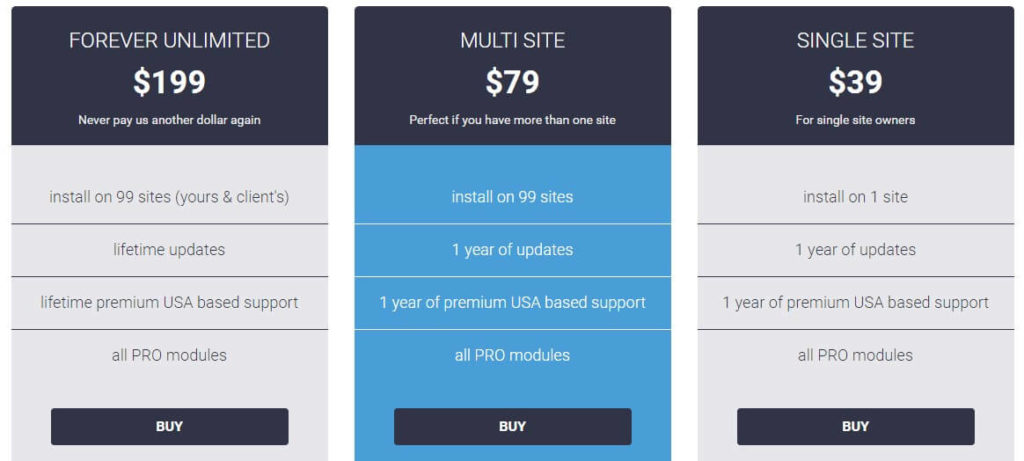 1. Core Scanner: This is the module which will keep an eye on your WordPress core files. If any of the core WordPress files get change then it will immediately notify you. You can revert back to the original files by just one click.
2. Malware Scanner: This module checks all the files, plugins, and themes to find out malware's in it. It performs more than 20 tests on each file.
3. Scheduled Scanner: This module will give you peace of mind by automatically security ninja and core scanner test every day. When it detects any changes, it will notify you via mail.
4. Event Logger: This is the primary module which monitors, track and reports each and every change from your site. It works on both i.e. front end and back end.
5. Coming Module: Yes, there will be one more module in Security Ninja plugin which will automatically fix the security issues found by Security Ninja. Isn't It Cool?
Bonus
Free WordPress Security Scanner From Team WpLoop they have Lot of Premium and Paid WordPress products
WP Loop is a website where you can perform various tests on your WordPress site. You just need to write your URL, and this site will do 40+ tests on your WordPress site and gives the results.

Final Words
As of now, you should have the sound understanding about the WordPress security and why we should keep our website safe. I was also worried about the security of my site, and while searching some plugins online, I found this great plugin.
So I recommend you to test this plugin for your site security. You can go for the free version first and then if you are satisfied then you can go for the paid version of this plugin.
So don't wait for a second, it is the question of your website security. Take action NOW.
I would like to hear your experience with this plugin. So feel free to comment here.
WP Security Ninja Plugin Review
Features

Support

User Friendly

Detailed Documentation
Summary
WP Security Ninja next Generation WordPress Plugin Help us Secure our WordPress website
Was this article helpful?
Thanks!
Your feedback helps us improve Allwebtuts.com