How to Install Google Analytics in Flarum
Flarum is an Open Source Forum Software Which has been Build by esoTalk and FluxBB Developers.
Recently we are Started using this Forum I am Satisfied with this Community Software.
Lightweight Forum
Well Optimized for PC and Mobile
Clean UI/UX Design
Mobile Responsive
Full Features of Flarum – Check Now
We need PHP Composer to Manage this Forum Software Personally I love this Feature to Manage Everything from Composer.
Install Flarum Forum Software on Server
Install New Extension
Update Forum and Extension
Remove Extension
Clear cache
Currently, this forum Under Beta Development.Chances to facing some Minor Bugs in Beta Version.
The developers are Working for Adding a new feature to the Forum also they Fix the Forum Bugs in Every Beta Updates.Still, I can't the Find Stable Version Release Date Hope they Will Announce it Soon.
Ok let's Come to Our Tutorial Part
How Install Google Analytics in Flarum?
Currently, Flarum does not have Header and Footer code Option box
So we are going to use the Extension Flagrow Google Analytics to Install Google Analytics in Flarum Forum Software.
Get ready with your Google Analytics Tracking UA Code
Login to your SSH and open the Forum Installed Folder
Run this Below Command Line to Install the Google Analytics on your Forum
composer require flagrow/flarum-ext-analytics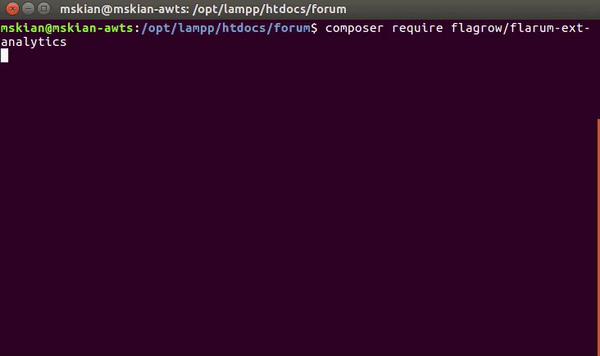 After installing this Extension Clear your Forum Cache by using this Command
php flarum cache:clear
That's all Successfully we Add Google Analytics Extension on Flarum
Now open your Admin Dashboard
Go to Extensions you can find the Analytics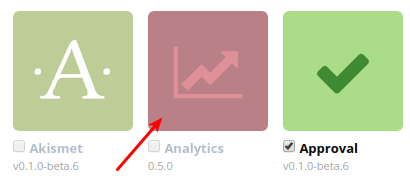 Check the Checkbox to Activate Plugin
it will display a pop-up box with two options
Choose Google Analytics
Enter Analytics UA Tracking ID and Click Save Changes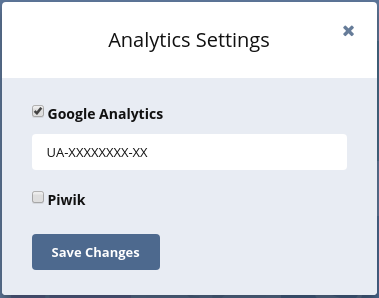 That's Successfully We Add Google Analytics on Flarum Forum Software
Output

How to uninstall this Extension?
Just run this Below Command line to Uninstall this Extension
composer remove flagrow/flarum-ext-analytics
From the Editor's Desk
Hope this Guide will help you to Install Google Analytics on Flarum if you need Any Help in Installation Just Drop your Comments Here I will Guide you.
Was this article helpful?
Thanks!
Your feedback helps us improve Allwebtuts.com