How to Add Fast Loading Google Maps Widget in WordPress
You can add any variety of content on your WordPress website whether that is an audio, video, image or PDF file. Adding the content in a different form from the other resources help us to provide appropriate information in more attractive and interactive way to our readers. Adding Maps to your sidebar or any particular pages sounds good. Isn't it? Now the question is can we add Google Maps in our WordPress site? If yes, then how? What is the best way?
Before answering it, let me give a brief introduction of Google maps and why you should add it to your website. It is one of the many services provided by Google.
It gives all the features we want to have it from a perfect map. It offers a 360-degree view of any area; provides time would be consumed to travel a particular distance by walk, bicycle or public transport.
Why should you add Google Maps Widget to your website?
Adding the map image is far better than writing down your address in words. Here it is not a simple map image; It will allow scrolling when your readers will click on the picture. Adding map will also avoid the situations, where your clients call you to ask the directions from various places to your office. They can have the view of your street by using this map and reach to your office quickly.
How to add Google Maps Widget to your website?
You can integrate Google Maps using many methods and plugins. Let me recommend you one of the best plugins which are specially created to perform this task only.
So, here we go with a fantastic plugin which you can use for WordPress platform.
Now, you want to know how is time-consuming it is? No, I'm just joking. It is not time-consuming at all. It will take hardly a minute or two to create a map for your WordPress site.
Features of Google Maps Widget Plugin:
Free Version:

Have a look at the screenshot of the ratings and necessary information of the plugin. Click Here To Download Free Version
Go to WordPress dashboard
Open Plugins
Add New Plugins
Search as Google Maps Widget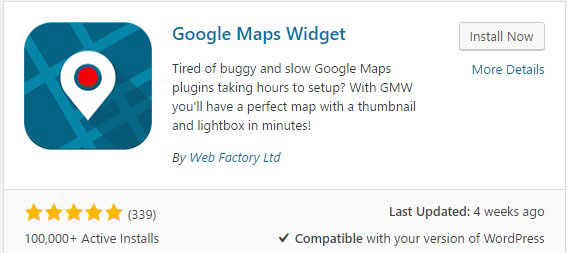 Install and Activate the plugin
Enter the Google Maps API and Activate Full Feature's
Go to Widget and Configure your Google MAPS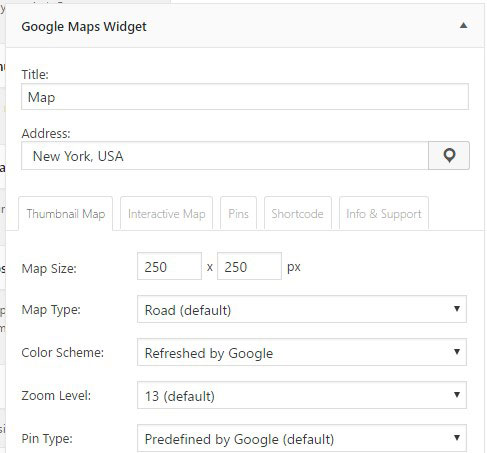 Let's see which options we have for this particular plugin
Map size
Map type
Map color scheme
zoom level
pin type
pin color
pin size
pin label
custom pin icon – any images can have to be use
1500+ pins library in PRO
Link type – lightbox, custom URL, replace thumbnail with an interactive map (PRO), immediately show interactive map (PRO) or disable link
image format
Map language
Text above map
The text below the map
Multi-pin is one of the best features of this plugin. But to get this feature, you will have to go with PRO version.
Pro Version:
After seeing the options available in free version, have a look at the features of PRO version.
High Rated Google Maps plugin and 100,000 Active users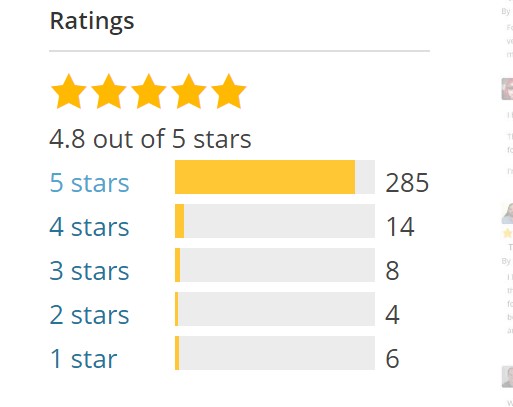 Easy to use
Using this plugin is not a rocket science. Though you belong to the nontechnical background, you can use this plugin Easily.They have 100,000 users as it is a piece of cake to install this plugin and yeah it will start working at the very moment.
Increases the speed of your site
The site load will be reduced by 2MB as this plugin only one request to load instead of 40+ requests
Unlimited maps and pins
Create as many maps you want to create on your site with pro version, and you can also pin the multiple places in a single map.
Matches with any site
It will match with any design of the website and make the perfect user experience.
Premium Support
You will get an answer to your mail within 3 hours by the support team.
Other options
You will get many options like directions, street view, satellite view, custom information bubble, etc.
The Plugin itself is just awesome. It's been four years that this plugin is added to the WordPress Repo. The plugin is using the popular map service and giving the great features to its users. In January 2016, there were more than 1, 00,000 active users of this plugins. This is something great.
You Know this Product is under WpLoop and WebFactory Team recently they Publish about this Plugin on their website & mention the Total downloads of this plugin.
Now, if you have made your mind to go with pro version then let me give you details about the plans available.
There are three plans available.
PRO Unlimited Personal – $39
You can use unlimited sites under this plan for one year.
You will get future updates as well.
Support for one year will be by default there.
PRO Unlimited Agency – $99
This is the best plan if you have an agency.
You can use this plugin for your personal and client's unlimited websites.
And what you need to pay is $99 and that also only once.
You will get all the current and future features of PRO version.
Lifetime support is a brownie point.
PRO Personal – $15/Year
The plus point of this plan is you can cancel it whenever you want.
This plan is valid for a single site only.
You are supposed to pay yearly.
You will get one year of upgrades and support.
So, the plans and pricing is reasonable, the ratings are also good, then what are you waiting for – to join the 100,000 active users? I will suggest you use free version initially and then go for PRO version if you are convinced for splurging or I would say investing your money in having better user experience on your site.
If you have used this plugin and faced any issue, then let me know via comment section. Also, share your user experience with this plugin if you have already used it. Want to recommend any other plugin to embed Google Maps? What are you waiting for? Go ahead; we are waiting for your opinion in the below comment section. Share this article with your blogging mates and friends, after all, the share is fair
Here's another Awesome Product by WebFactory
Secure your WordPress website
Google Maps Widget PRO Review
Features

Speed

Support

Price
Summary
Google Maps Widget PRO WordPress Plugin Review Responsive and Fast Loading WordPress Google Maps Plugin.
Was this article helpful?
Thanks!
Your feedback helps us improve Allwebtuts.com