A Simple Method a Disable Clickable Link in WordPress Comment Box Without Plugins
Disable Clickable Link in WordPress Comment Box Without Plugins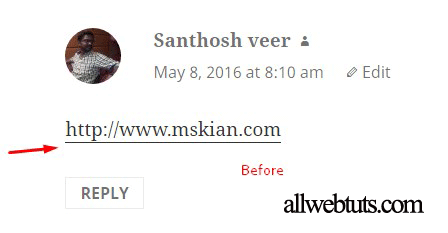 In Our past article, we see about Remove the Website URL Field from WordPress comment box in this tutorial we are going to see about Disable Clickable Link in WordPress Comment Box Without Plugins one of our Blog Reader tell me about the clickable spam link submission in WordPress Comment Message box.Sometimes we forgot to delete the Spam comments and the Spam commenter getting Backlink from our website.
Here is best Solution for this Disable the Clickable WordPress Comment Message without Plugins.Just Follow the Below Steps
Login to your WordPress Dashboard
Go to Appearance >Editior
Now add the Below PHP Code into current theme's Functions.php file
remove_filter('comment_text', 'make_clickable', 9);
That's all save the Edit's Now check your WordPress comment box and see the Magic  🙂
Now your website visitor's can't click the Comment Links.Successfully we Disable the Clickable Link in WordPress Comment Box.
Check – Add Animated Scroll to Top Button in WordPress
Was this article helpful?
Thanks!
Your feedback helps us improve Allwebtuts.com