Refer a friend program can simply be explained as a win-win concept where the referee, the new customer, and the store owner are benefited on their own terms. Rewarding points to the referee for the referral would urge them to maintain a long-lasting relationship with you.
As a store owner, it is essential to convert your loyal customers to brand advocates which would bring more benefits to you as well as your customers. This can be achieved effortlessly using the best WooCommerce plugin "Loyalty Points and Rewards".
The WooCommerce Loyalty Points and Rewards Plugin guides you to nurture your existing customers by making every interaction into the count and offering reward points. With the plugin, you can engage your customers by rewarding specific actions and building relationships through customer loyalty rewards as you grow. You can offer the best WooCommerce loyalty program with this plugin.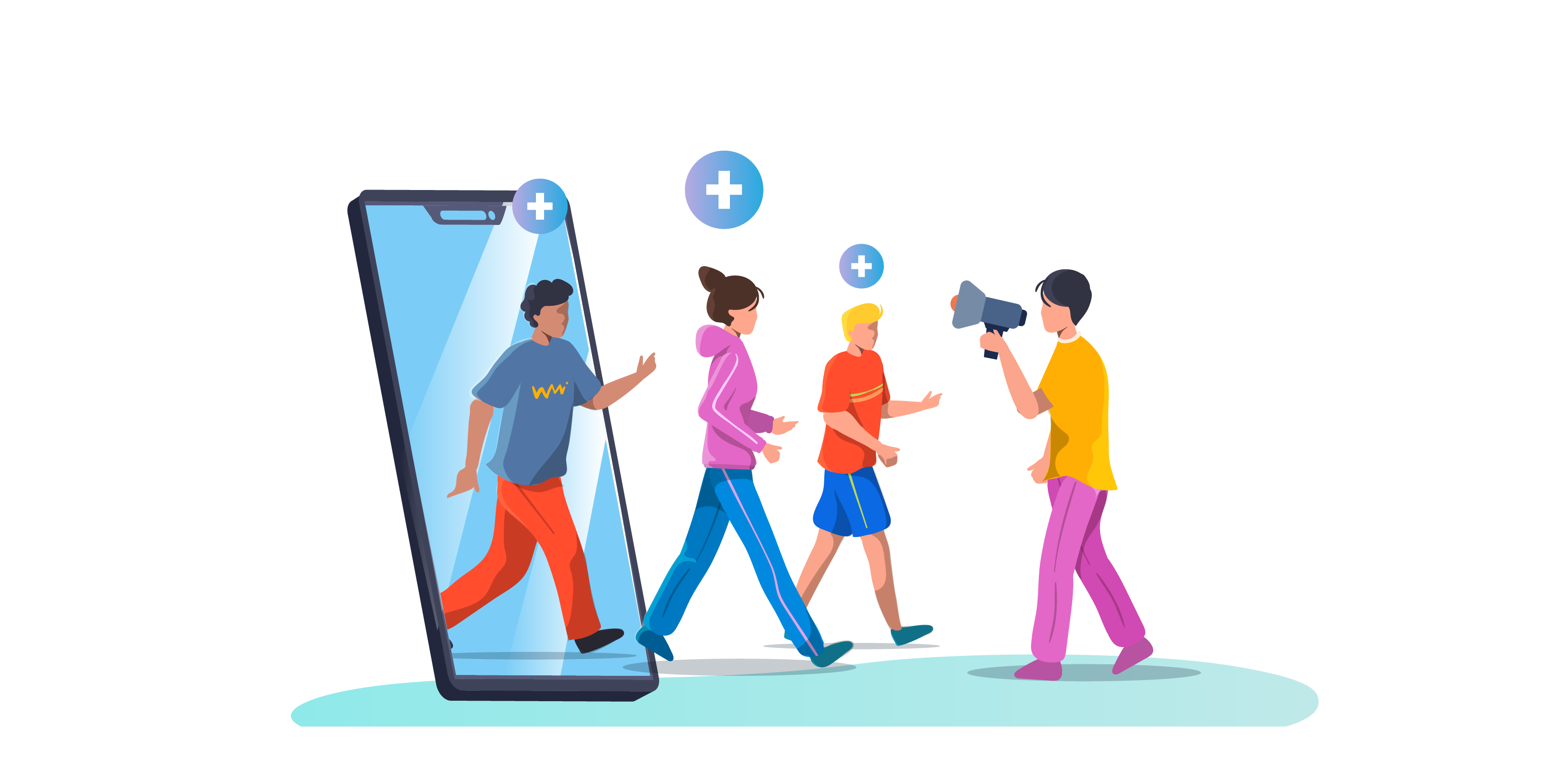 The loyalty program is one of the best strategies to increase revenue and customer engagement. WooCommerce Loyalty Programs help to build loyal audiences for your store.
Customers can earn points by doing specific actions and can later redeem these points. This strategy would boomerang your customers often and would also bring excellent conversions.
Benefits of Loyalty Program
Implementing WooCommerce loyalty rewards, you can offer points and rewards to your customers for their different actions like sign up, purchasing a product, review a product, and also during referrals. It also boomerangs your customers to increase their points and avail your rewards. Some of the advantages that you can experience by integrating the WooCommerce reward system,
It helps to generate more sales and revenue.
Rewarding your customers for their loyalty would build brand advocates for your online store.
Reduces cart abandonment at your WooCommerce store.
It develops your brand value and accelerates your traffic & sales.
Easily get recognized through the free marketing strategy, Word-Of-Mouth.
It always helps you to stand unique among your competitors.
Setup the WooCommerce reward system and experience it benefits at your store. Offering rewards by considering your customer's every action into count will bring in greater conversions and revenue to your WooCommerce store.
Features of the WooCommerce plugin Loyalty Points and Rewards
The plugin Loyalty points and Rewards for WooCommerce guides you to bring great customer engagement at different phases like,
Rewarding your customers with loyalty points during their sign up.
Encouraging your customers with loyalty points during their purchase or when a review is posted.
Offering referral points when they refer to a friend.
The powerful features of the plugin that drives more traffic and revenue for your eCommerce store with complete loyalty rewards management,
Loyalty Reward Program – Reward your customers for their loyalty
Referral Programs – Reward points for referrals and increase WOM which drives traffic and revenue.
Points and Rewards – Manage your customer's points and rewards.
Customer Notifications – Display customer cart messages and drive more sales.
Dashboard – Have in-depth analytics of the points and rewards under one roof
Launcher Widget – It displays the rewards for purchase, sign up, writing a product review, and referrals.
The customer loyalty program develops advantages like an increase in revenue, brand value, healthy customer relationship, WOM, and importantly you will stand unique among your competitors. Implement this feasible plugin to your online store and watch your sales grow.
What is a Referral Program and What are its benefits?
A referral program is a powerful marketing strategy that helps you to boost your sales efficiently. It is also a method for promoting your business through referrals who are interested in advocating your brand.
When a referral program has been implemented
It urges people to purchase from you when referred by a friend
Your existing customer makes the purchase and refers to gain his/her credit
Boost your sales and conversions effortlessly
Builds good customer engagement and relationship at your store.
How to create Refer a Friend program for your WooCommerce store
The referral program can be easily created with the WooCommerce plugin "Loyalty Points and Rewards"
Let's get started by installing the WooCommerce Loyalty Points and Rewards plugin to your WordPress dashboard,
Step1: Login to your WordPress Admin section and go to Dashboard -> Plugins.
Step2: Click on "Add New" button as illustrated below,

Step3: This will take you to the "Upload Plugin" click on it

Click the "Browse.." button and choose the Plugin Zip file you have downloaded from the plugin repository.

Once the respective file has been uploaded hit the "Install Now" button.
Step4: Click on the "Activate" button once the plugin has been installed,

Once the installation process has been completed make sure to activate the license key to receive automatic updates and support for your plugin.
Let us discuss in detail with the process of creating a referral program,
Convert your existing customers to brand advocates through this referral program. Create a referral program for your existing customers and urge them to earn points by referring a friend.
Let us see how it works with the help of an example,
Joel is an existing customer of your store and is eligible for the referral program. He can earn his points by referring his friends to your store. Joel can share the referral URL or code to his friends which is available at My Account -> Points page.
The new user (Joel's friend) can earn points and discounts with this referral code. Joel will receive his points only when his friend completes an order.
Let us create the referral program in a few clicks by following the below instructions,
Go to WooCommerce -> Loyalty Points and Rewards-> Referrals
The referral program can be set in two methods,
Bonus Points for Referrals
Dynamic Bonus points based on rules
Bonus points for Referrals
In this section, you can configure the respective points for both referrals and referees. Basic setting for the referral code can also be done here,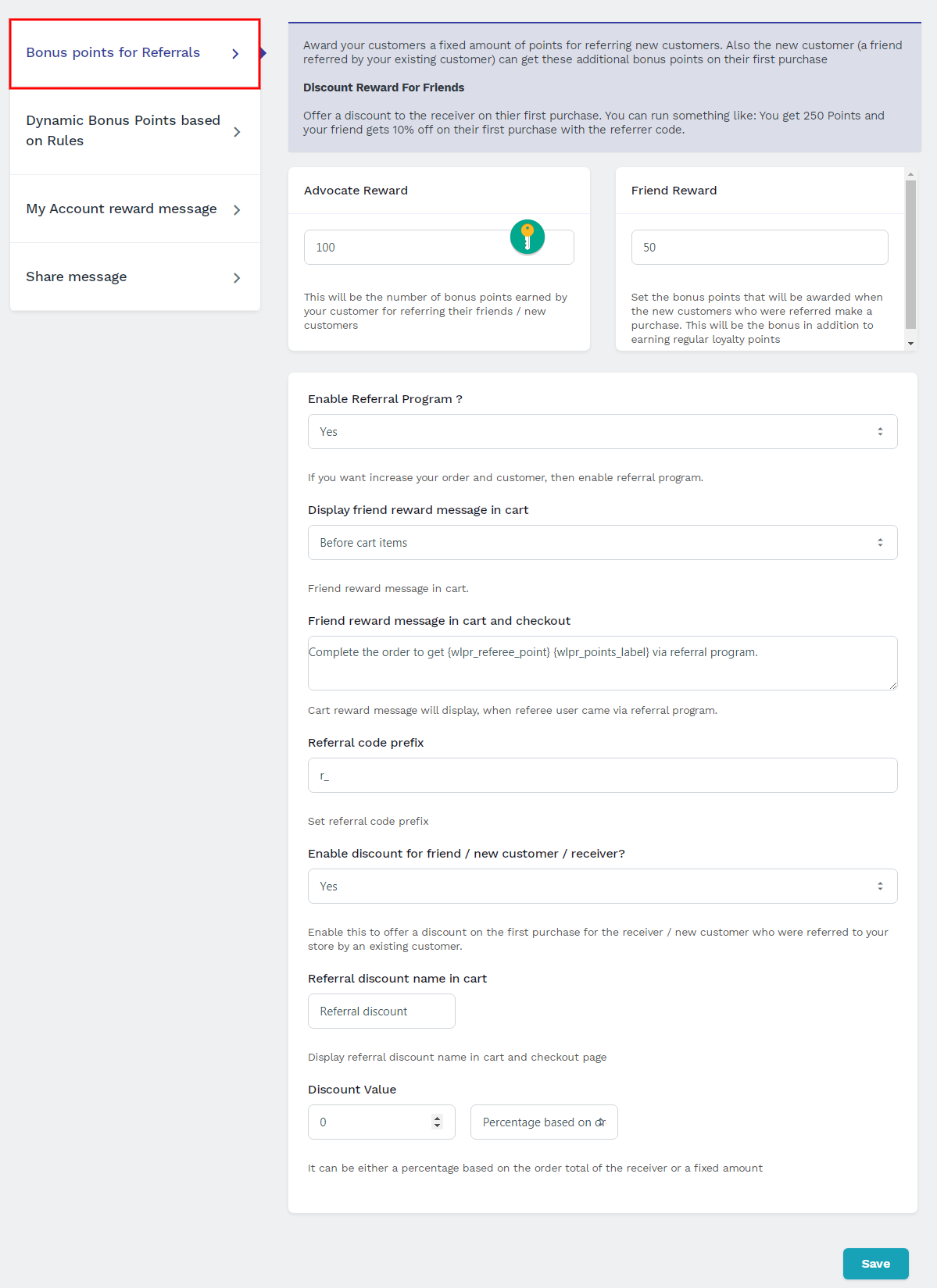 Advocate Reward – you can set the reward points for the referee (advocates/ your existing customers) for referring their friends or new customers.
Friend Reward – you can set the rewards points for the referrals (newly signed up customers who are referred to make the purchase). These are the bonus points in addition to the earned loyalty points during the purchase.
Enable Referral Program – you can choose the option here to activate the referral program.
Display friend reward message in cart – you can select the page where to display the reward message (before/ after cart items).
Referral code prefix – you can set a prefix for the referral code.
Enable discount for friend / new customer / receiver? – You can enable this option if you want to offer a first purchase discount to the new customer who was referred by your existing customer. This discount can be set on top of the reward points.
Referral discount name in cart – You can enter the name of the referral discount that is to be displayed in the cart and checkout page.
Discount Value – here you can set the discount value either as a percentage discount completely based on the order total or you can set a fixed amount as discount value.
Based on the configurations set here, the referrer and the referral will receive their rewards points for their respective actions.
Dynamic Bonus points based on rules
In this section, you can offer the reward points dynamically for both the referrer and the referral based on the subtotal of the cart.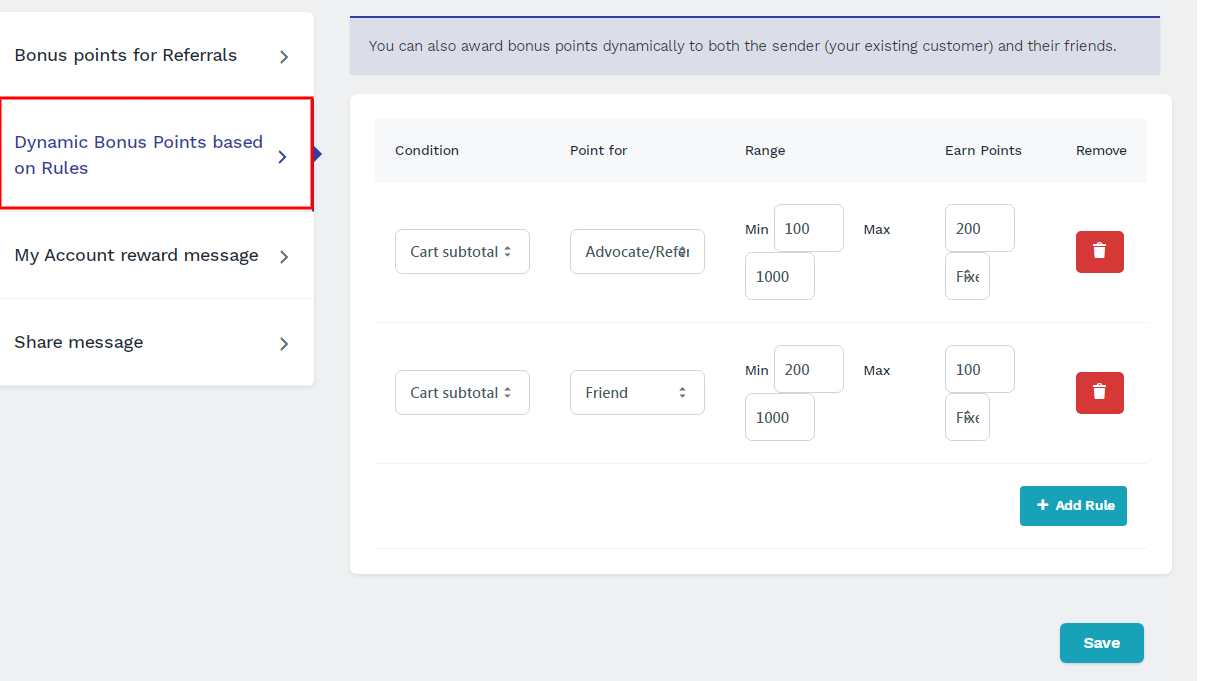 The cart subtotal based rule has been created separately for both the referrer and the new customer.
The existing customer will receive the points once the new customer completes his/her first purchase.
The new user will receive his/her reward points depending on his first-purchase subtotal value.
The above two methods clearly illustrate how to configure a WooCommerce referral program at your store.
How the users share the Referral URL or CODE to their friends
Now, let us see how the existing customer can share the referral URL or code to their friends.
It is very simple to fetch and share the referral codes by the existing customers to their friends through Twitter and Email. The Referral URL can be fetched from,
Login to the site -> My Account -> My Points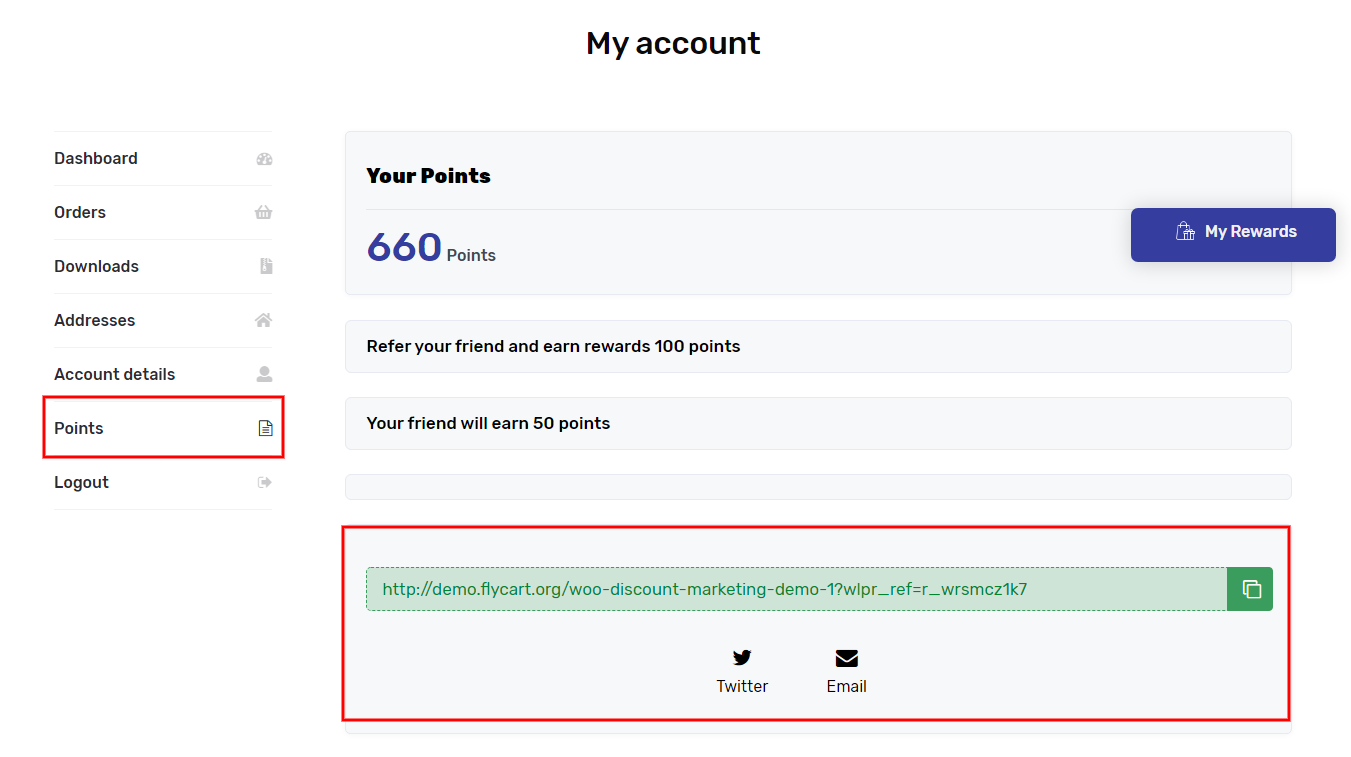 The referral URL or code can be shared through Twitter or through emails which would help in gaining benefits for both the referrer and the referral. The Referral code can be used as coupon code by the new user at their cart in order to avail the discount on their first purchase.
In this article, we have educated you in detail about configuring a WooCommerce referral program for your store. This referral program brings in great benefits both to the referrer and the new customer. The referral program increases your revenue, brand value, healthy customer relationship, WOM and importantly you will stand unique among your competitors.
Nail your store's revenue by implementing the WooCommerce referral program and take your business to the next level.
Wishing you Good Luck.
Was this article helpful?
Thanks!
Your feedback helps us improve Allwebtuts.com