How to Activate a Free SSL on Branded Bitly short domain
Activate a Free SSL on Branded Bitly short domain you are All well know about Bitly URL Shortener  Most of the Famous website and social Media portal using the bitly Branded short Domain it also the useful tools for Bloggers to track their link click activities (best Tracking system for bloggers) recently Bitly Migrate their server and Updated their new Dashboard with powerful option's today I Open a Bitly account for Update the brand short domain DNS configuration recently they Migrate their server so they notify all branded bitly short domain users to change their DNS configuration today I accidentally find the Free Let's Encrypt SSL Option for brand Bitly Short domains Nowadays Most of the top Hosting Companies provide a Free Let's Encrypt SSL for their user's to secure their website Including Some CDN Companies also provide a Free Let's Encrypt SSL for CDN URL Recently KEYCDN provide Let's Encrypt free SSL for their CDN user's Now Bitly also provide a Free SSL for Branded bitly Short Domain URL user's.
How to Activate the Free HTTPS SSL for Branded bitly Short domain?
Login to your Bitly dashboard
Click the Dropdown Navigation icon on the right side of the Bitly menu bar

Now it shows the Bitly Account Management setting options
Now choose settings > Advanced Settings > HTTPS and SSL Configuration
Now it shows the SSL On and Of option just ON the Free SSL that's all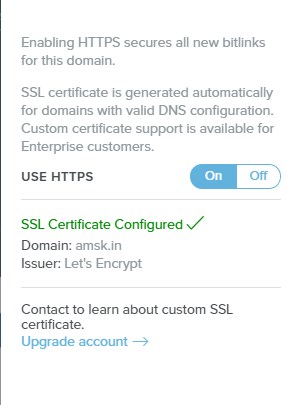 That's all Successfully we activate the free SSL for our brand Bitly Short domain.
when you create a new short URL  for your blog link your new Bitly short Generated with https connection
https://awts.in/1UDC80G
If you have any doubts in this topic Please free to comment here our team will help you.
Was this article helpful?
Thanks!
Your feedback helps us improve Allwebtuts.com